COLUMBIA
ACCIDENT INVESTIGATION BOARD

Report Volume I
August 2003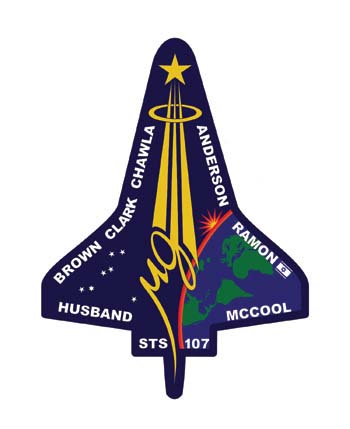 This was the crew patch for STS-107. The central element of the patch was the microgravity symbol, オg, flowing into the rays of the Astronaut symbol. The orbital inclination was portrayed by the 39-degree angle of the Earths horizon to the Astronaut symbol. The sunrise was representative of the numerous science experiments that were the dawn of a new era for continued microgravity research on the International Space Station and beyond. The breadth of science conduct-ed on this mission had widespread benefits to life on Earth and the continued exploration of space, illustrated by the Earth and stars. The constellation Columba (the dove) was chosen to symbolize peace on Earth and the Space Shuttle Columbia. In addition, the seven stars represent the STS-107 crew members, as well as honoring the original Mercury 7 astronauts who paved the way to make research in space possible. The Israeli flag represented the first person from that country to fly on the Space Shuttle.
これはSTS-107の乗務員パッチです。中心になっているのは、微小重力のシンボル「μG」で、宇宙飛行士たちをあらわす光に導かれています。リングは光に対して39度傾けられており、シャトルの軌道傾斜角を表しています。日の出は国際宇宙ステーションで行われている継続的な微小重力下の実験という新しい時代の夜明けを意味しています。また、星々と地球は、このミッションで得られた科学的な成果が、地球の生命と宇宙探査の継続に大きな恩恵をもたらすことを意味しています。さらに描かれているはと座(Columba)は地球の平和とスペースシャトルコロンビア(Columbia)のシンボルとして選ばれました。さらに、7つの星はSTS-107のクルーを表すと同時に、宇宙での実験の道を切り開いたマーキュリー7の宇宙飛行士たちに敬意を表するものです。また、イスラエルの国旗は、このシャトルで飛行するイスラエル初の宇宙飛行士を現しています。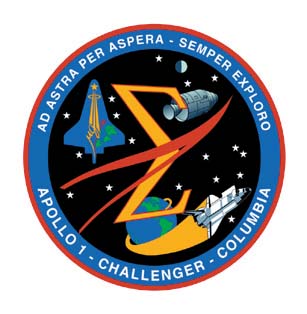 This emblem memorializes the three U.S. human space flight accidents ュ Apollo 1, Challenger, and Columbia. The words across the top translate to: "To The Stars, Despite Adversity ュ Always Explore"
このエンブレムは、アポロ1号、チャレンジャー、コロンビアの3つの有人宇宙飛行の事故を記念したものです。エンブレム上部に書かれている言葉は「困難を乗り越え、星へ。そして、つねに探求を」
Limited First Printing, August 2003, by the
Columbia Accident Investigation Board
Subsequent Printing and Distribution by the
National Aeronautics and Space Administration
and the
Government Printing OfficeWashington, D.C.